P & P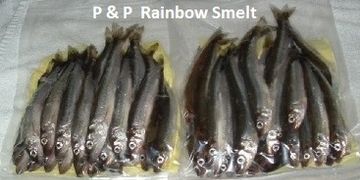 P&P Bait are "processed & preserved".
Our method maintains the near natural color, texture, full-body shape of a live fish.
This bait has incredible durability on the hook & shelf-life of months in the original unopened package stored @ 60F or less. Freezer storage can be up to 2 years. This bait is freeze-thaw stable, able to go thru multiple cycles without turning mushy!
P&P baits were developed as a "trolling" bait but have since been appreciated by ice and stream anglers.
Best used for trolling or casting!
USPS or FedEx shipped.